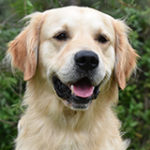 Australian Grand Champion
2017 - 2 Best Australian Bred in Show
2017 - 1 Best in Group
2017 - 2 Runner up to Best in Group
2017 - 3 Best Australian Bred in Group wins
2016 - 1 Best Australian Bred in Show
2016 - 6 Best Australian Bred in Group
2016 - 1 Best Open in Group
2015 - 1 Best in Group
2015 - 2 Runner up to Best in Group
2015 - 6 Best Australian Bred in Group
2015 - Best Headed
2015 - Best Brace, paired with Angel
2015 - Best Opposite Sex Intermediate in Show - Golden Retriever Specialty Show
2015 - 4th place Intermediate Dog - Sydney Royal Show
2015 - 4 Best Intermediate in Group
2014 - 1st Place Junior Dog - Sydney Royal Show
2014 - 1 Runner up to Best in Group
2014 - 2 Best Intermediate in Group
2014 - 1 Puppy Sweepstakes win
2014 - 1 Puppy Sweepstakes place
2013 - 3 Best Baby Puppy in Show
2013 - 2 Best Puppy in Groups
2013 - 5 Best Minor Puppy in Group
2013 - 6 Best Baby Puppy in Group
2013 - 3 Baby Puppy Sweepstakes wins
2013 - 13 Baby Puppy Sweepstakes places
Quest
Aust. Grand Ch. BlueBreeze Legend of Saltire
A Champion at 23 months old and a Grand Champion at 4 1/2 yrs old.
2013 Quest finished No. 3 Golden Retriever Nationally on the Dogzonline Rising Star Competition.
Quest & his litter mates had a 14th Century Scottish theme.  "The Saltire" is the Scottish Flag and "The Legend" behind the flag is about the Quest for William Wallace & Robert The Bruce (King of Scotland) to free the Scottish people from the tyranny of the English King.
Quest is a proven sire and is available at stud.
To view Quest's pedigree & health checks please visit K9 Data
Photogallery
---